Radio
STANDARD TIME WITH OLEG FRISH (2011 – 2014)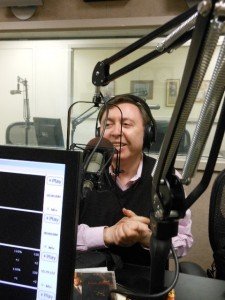 STANDARD TIME WITH OLEG FRISH was broadcast on WNYM Radio (970 khz AM Radio licensed in Hackensack, NJ (and serving the New York Metropolitan area). It was a weekly music show that aired on Saturday nights. Each show featured music and a celebrity music guest segment.
Over the three year run of the show some of the celebrity guest included; Brenda Lee, Gloria Lynne, Peter Cincotti, Bobby Vinton, Peggy March, Roseanna Vitro, Trini Lopez, Gloria Gaynor, Gleb Savchenko, Bobby Rydell, The Four Freshmen, Connie Francis, Marlene Ver Plank, Jacob Collier, Halie Loren, Chris Montez, Jimmy Cavallo, Giada Valenti, Cary Hoffman, Christine Vivona, Nancy Ames, Joey Reynolds, Nancy Wilson, Marieann Meringolo, Sue Raney, Laura Fygi, Bernie Furshpan, Tony De Sare, Dodie Stevens, Lyn Stanley, Ken Slavin, Anne Phillips, Audrey Morris, Theodore Bikel, Michelle DellaFave, Helen Merrill, Raquel Bitton, Tatevik Hovanesian, Jane Morgan, Cynthia Holiday, Vince Giordano, Karen Wyman, Kid Kyle James, Don Cherry, Carla Valenti, Wanda Jackson, Marieann Meringolo, David Silverman, Johnny Tillotson, Bobby Goldsboro, Jon Hendrick, Lesley Uggams, Sheila Jordan and Iris Williams.
THE MUSIC HOUR WITH OLEG FRISH (1998-2005)
Was broadcast on the PEOPLE'S WAVE Russian language radio (930AM WPAT station), on every Wednesday at 8pm. This was the first program in Russian fully devoted to American music. The program featured music and entertainment news, music quiz, concert recommendations and a well known guest.
The most of guests were live from the PEOPLE'S WAVE studio on 5th Avenue in Manhattan, NY. Such celebrity guests as Connie Francis, John Kander, The Manhattan Rhythm Kings, Pat Suzuki, Nancy Wilson, Deborah Cox, Patti Page, Brenda Lee, James Brown, Paul Ellington, Jerry Herman, Johnny Mandel, Anita O'Day, Chris Connor, Blossom Dearie, Lesley Gore to name a few.
ALL ABOUT MUSIC! (1992 – 1998)
ALL ABOUT MUSIC was broadcast on WMNB – the first Russian subscription radio station, from Fort Lee, NJ.
The program featured famous Russian singers, musicians and entertainers who, either were on tour in the USA or moved to the US. The most notable guests were Alla Pugacheva, Philipp Kirkorov, Valentina Tolkunova, Aida Vedishcheva, Nina Brodskaya, Emil Gorovets, Natalia Varley, Oleg Popov, Georgiy Vitsin, Tatiana Lebedinskaya, Igor Butman, Tatevik Hovanesian, Guili Chokheli, Edita Piekha and many others.