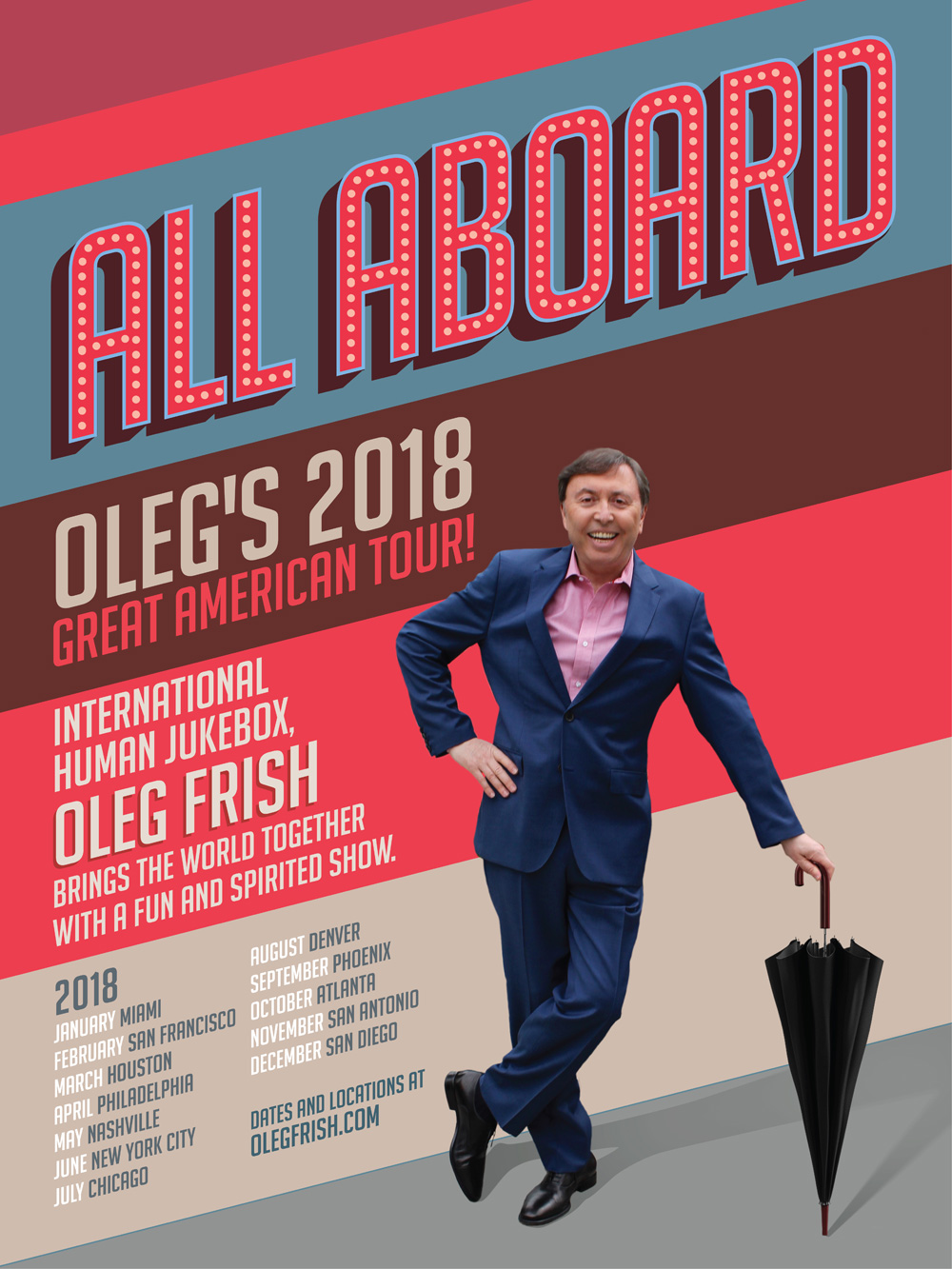 UPCOMING PERFORMANCES
Coming soon
PAST PERFORMANCES
June 9, 2018, 8pm
OLEG FRISH: SWING AROUND THE WORLD, features his Jazz Ensemble, Special and Suprise Guests
(Oleg swings international hits in many languages)
Davenport's Piano Bar and Cabaret
1383 N.Milwaukee Ave, Chicago, IL
773-278-1830
Read More
May 19, 2018, 7pm
Oleg Frish: Swing Around The World
(Oleg swings international hits in many languages with a jazz quartet and guest artists)
The Triad Theater
158 West 72nd Street, 2nd Floor
New York, NY 10023
212-279-4200
212-362-2590
Read More
---
April 1, 2018, 8pm
Oleg Frish: Swing Around the World
(Oleg swings with a 7 piece band and in many languages)
Catalina Jazz Club
6725 West Sunset Blvd, West Hollywood, CA 90028
323-466-2210
www.catalinajazzclub.com
---
April 8, 2018, 2pm
Oleg Frish: Swing Around The World
(Oleg swings international hits in many languages with a jazz quartet and guest artists)
Boca Black Box
8221 Glades Road #10
Boca Raton, FL 33434
561-483-9036
Read More
---
March 9, 2018 , 8pm
Oleg Frish: SWING AROUND THE WORLD, features his Jazz Ensemble, Special and Suprise Guests
(Oleg swings international hits in many languages)
The Trumpets Jazz Club
6 Depot Square (at Walnut Street)
Montclair, NJ
973-744-2600
Read More
---
February 2, 2018, 7pm
Oleg Frish: "Swing Around the World" A Jazz Cabaret Show
(Oleg swings with a 7 piece band and in many languages)
Philarmonic Hall, Smolensk, Russia
Glinka Street, 3
Tel: (4812) 38-29-84
www.smolensk-filarmonia.ru
Read More
---
February 4, 2018, 8pm
Oleg Frish: "Swing Around the World" A Jazz Cabaret Show
(Oleg swings with a 7 piece band and in many languages)
The Kozlov Jazz Club
9/2 Maroseika Street, "Left Bank"
Moscow, Russia
Tel: +7 926 952 0077
www.kozlovclub.ru
Read More
---
November 12, 2017, 8pm
Oleg Frish: Swing Around the World
Featuring His Jazz Septet ( Peter Zak, piano; David Ephross, bass; Bruce Cox, drums; Jack Cavari, guitar; Bob Milikan, trumpet; Birch Johnson, trombone; Lawrence Feldman, sax) and Special Guests!
The Iridium Jazz Club
1650 Broadway (at 51st Street) New York, NY 10019
212-582-2121
www.theiridium.com
Read More
---
May 17, 2017, 8pm
Swing the Night Away WIth Oleg Frish!
Catalina Jazz Club
6725 West Sunset Blvd, West Hollywood, CA 90028
323 466 2210
www.catalinajazzclub.com
Read More
---
February 26, 2017, 7pm
Oleg Frish: A Night of Swinging, Laughter and Love Songs featurind his Jazz Quartet and Surprise Special Guests
The Metropolitan Room
34 West 22nd Street (btw 5-6 Ave.)
212 206 0440
www.metropolitanroom.com
Read More
---
February 3, 2017, 7pm
Genius of Songs. Nikita Bogoslovsky. Gala show starring Russian singers and actors.
Moscow House of Music
52 Kosmodamianskaya Naberezhnaya
Moscow, Russia
+7 495 730 1011
Read More
---
November 22, 8.30pm
Oleg Frish: Swinging Into The Holidays!
Featuring Surprise Special Guests and the Jazz Quartet (Allen Farnham, piano; David Ephross, bass; Lawrence Feldman, sax; Dwayne Broadnax, drums).
The Iridium Jazz Club
1650 Broadway (at 51st Street), New York, NY 10019
(212) 582 2121
www.theiridium.com
Read More
---
December 4, 8pm
Oleg Frish and Friends: "Swing International" A Jazz Cabaret Show
(Oleg swings with a 7 piece band)
The Kozlov Jazz Club
16/2 Olympiisky Prospect,
Moscow, Russia
Tel: +7 926 952 0077
www.kozlovclub.ru
Read More
---
July 29, 8.30pm
Debut in Australia!
Oleg Frish and His Quartet: "I WIsh You Love". A Jazz Cabaret Show
The Foundry 616
616 Harris Street
Ultimo, Sydney
Tel: 02 9211 9442
Read More
---
February 19 at 9:30pm
The First Cabaret Festival at the Metropolitan Room, Manhattan, NY
34 West 22nd Street, NY, NY 10010
(212) 206 0440
Read More
---
March 5 at 8pm and 10pm
Oleg Frish Quartet: An Evening of Love Songs with Special Guest, Grammy Nominated Vocalist Roseanna Vitro
The Trumpets Jazz Club, Montclair, NJ
6 Depot Square, Montclair, NJ 07042
(973) 744 2600
Read More
---
April 8 at 9:30pm
An Intimate Evening With Oleg Frish and His Friends. Special Guest – rock n'roll legend Gary U.S.Bonds
Feinstein's/54 Below
254 West 54 Street, Manhattan, NY 10019
(646) 476 3551
Read More
On Oleg Frish and His American Idols, Oleg realizes one of his dreams: to share some of his adopted country's most heartwarming standard tunes with some of his singing heroes and idols. Oleg's tastes range wide. He coaxed Melissa Manchester into playing Ginger Rogers to his Fred Astaire on A Fine Romance. Oleg and Lainie Kazan, the voluptuous Broadway sex bomb turned comic yenta of the big screen, team up for a raucous, half-Yiddish sendup of Hello, Dolly! (Oleg has sung in a staggering 24 languages.) In duets with Tony Orlando (On the Sunny Side of the Street) and Gary U.S. Bonds (You're Nobody Till Somebody Loves You), he recreates the swinging sound of Rat Pack-era Las Vegas. Sunny (sung with B.J. Thomas) and The Way You Look Tonight (with Peggy March) have a 1970s AM-radio smoothness.
Happily, Oleg gives himself several solos. On Till There Was You, he sings in a mellow, swing-era foxtrot style. Dancing on the Ceiling gains new life in a '60s girl-group-style arrangement. And on go the surprises in a CD that will keep you smiling, by a man whose charm is hard to resist.
Read More
Top 10 Things You Need To Know About Oleg Frish
Oleg is the first Russian born radio and television broadcast journalist to host and produce his own entertainment and music programs in the United States. He was inspired to launch his career in the industry by several legendary American television hosts including Ed Sullivan, Merv Griffin, Dick Clark, Mike Douglas and Regis Philbin.
Oleg has been the Russia's premier broadcast journalist in the US on radio and television for the past 24 years. He has hosted two top long-running radio shows, the MUSIC HOUR WITH OLEG FRISH (1998-2005) and STANDARD TIME WITH OLEG FRISH, on WNYM Radio (970 khz AM Radio licensed in Hackensack, NJ and serving the New York Metropolitan area). His first television show about American music TIME OUT (a celebrity driven news program that was taped in various locations, was televised internationally (including the US and Canada) from 2005-2010. His current show, THE FRIDAY NIGHT is broadcast nationally in every state on RTVi and has been in production since 2011.
THE FRIDAY NIGHT is produced by RTVI. It's a half hour one-on-one show format that features Oleg interviewing a major celebrity guest 52 weeks a year. Throughout his career, he has interviewed hundreds of major stars including; James Brown, B.B. King, Connie Francis, Engelbert Humperdinck, Paul Anka, Al Martino, Jack Jones, John Kander, Jerry Herman, Marvin Hamlisch, Petula Clark, Michel Legrand, Yma Sumak, Gloria Gaynor, Donna Summer, Brenda Lee, Vikki Carr, Keely Smith to name a few. The show is broadcast in Russian (voice over).
RTVi (Russian Television International) an international Russian-language privately owned television network with studios based in New York, Tel-Aviv, Berlin and Riga.. RTVi's European feed is not available in Russia, but they reach a global audience of more than 50 million viewers. RTVi's principal audience are millions of Russian-speaking viewers outside Russia, in some cases it's the only TV channel available for Russian-speaking communities. There is a population of over 3 million Russian-Americans and immigrants living in the U.S, and over 350,000 living in New York. All of the network's programs are included as part of the IO Russian package that is available all major cable network distribution systems such as Direct TV (all areas except New York) Time Warner, Cablevision, Comcast and RCN. In the Tri-State area, RTVi programs can be viewed on Time Warner Cable channel 521, Cablevision channel 1182, RCN channel 530, DirecTV channel 2148, on Comcast and other channels depending on the area.
Duets with My American Idols, (released by Sony Red, 5/19) Oleg's fourth album as a recording artist, is a dream come true and culmination of two years of recording with an all-star cast of noted rock n' roll and pop artists that Oleg convinced to record duets with him of some of his most cherished American songbook classics including; the late Ben E. King, B.J. Thomas, Lainie Kazan, Bobby Rydell, Chris Montez, Peggy March, Lou Christie, Tony Orlando, Gary U.S. Bonds and Melissa Melissa Manchester. The album also features several solo tracks performed by Oleg and a special introduction by the legendary Connie Francis.
Oleg had dedicated most of adult life to sharing his love and appreciation for the classic American songbook and preserving the legacies of many of the artist's who popularized standards around the world. The timeliness of his "Duets With My American Idols" is a subtle reminder that many of those artists and songs will be soon be lost to generations to come unless the songs are kept alive.
Oleg is a one-man "songapedia," musical historian and a avid collector of archival music memorabilia (albums, books, post cards). The first American song he remembers hearing was "Hello Dolly" by Brenda Lee at age four, and by his early teens he could recall by memory lyrics, arrangements, composers and artist of over 15,000 songs. He fell in love with many noted American, European and European artists and songs recorded in the golden decades of popular music from 1940 – 1980, and a range of genres, including American Songbook classics, rock n' roll, jazz, rhythm & blues, contemporary pop and disco.
When Oleg was 16 years old, his keen gift and memory of music earned him a featured performer slot in two popular psychic shows: Miracles Do Not Exist! and "I Simply Read Your Thoughts! " which toured all over Russia from 1979-1992. Audiences were given a large catalog of songs, and like a mentalist, he would randomly ask people from the audience to pick any song and keep it in their mind. Within seconds, Oleg would correctly name the song they picked. At time, he performed as many as 40-60 shows a month.
Oleg fluently speaks and understands 6 languages, (including, Russian, English, Ukrainian, German, French, Yiddish, ..) and sings in 15 (including English, Russian, Ukrainian, Italian, Spanish, Yiddish, Japanese, Swedish, Hebrew, Yakut, Romanian, Polish, Georgian, and some others) His dream is to one day record his album in several of those languages.
Over the past 5 years Oleg has been developing his live show with sold out performances at the Metropolitan Room in NYC and other venues (The Laurie Beechman Theater, The Millennium Theater in Brooklyn, and Joe's Pub ) and markets including the Catalina Jazz Club in Southern California, Marco Polo Cabaret Room in Miami, ST. Petersburg Night Club in Denver and many private functions.